We know that whether you're buying for a whole company or just your home office, choosing the perfect computer chair is important. You want to be comfortable while you work, but comfort isn't the only factor to consider. You also want a computer chair that is safe, durable and will keep you productive throughout your day.
Browsing for a new computer chair can make you feel like you're running in circles. With our complete buyer's guide, you'll quickly find the perfect chair that gives the comfort and support you need.
What Computer Chair is Best For Me?
First things first, you need to know what makes a good chair, or else how do you know what you're looking for? An uncomfortable chair can hamper how well you work or ruin a meeting before it even begins, so remember the following things when you're browsing:
Support – The most important aspect of a good computer chair is its back support. It should be comfortable while reducing the risk of back strain while you work. Many ergonomic chairs are also fitted with armrests to reduce pressure on your shoulders.
Adjustability – Height and back support adjustment are standard features, but other chairs can also have their armrest width, back angle and tension control adjusted. The more flexible it is, the more likely you are to stay comfortable.
Manoeuvrability – Computer chairs are often fitted with swivel bases and wheels to reduce arm fatigue and strain when reaching for objects. The last thing you need when you're trying to work is for everything to be out of reach.
Material and Aesthetics – Branding is always important, especially when furnishing your office. Chairs are available in a wide range of materials, such as durable leather and mesh that will keep you cool throughout the day.
For more information about seating at work and how to minimise potential risks, see Health and Safety Executive's Seating at Work guide.
How much are computer chairs?
Much like when you're browsing for a new car or sofa, the more you invest in your seating, the more likely it is to offer everything you need. Computer chairs can be as cheap as £25 or upwards of £300. If you're making a one-off purchase, you may be able to spend a little more than if you need 20 or 30 chairs for an entire office.
We have options to suit budgets of all sizes. The RS Soho 'Atlas' is comfortable and dependable, while the RS Soho Karl is a sleeker option with a breathable mesh. If you're looking for high-end design and unbeatable support, opt for the Energi-24 'Executive'.
Below £50: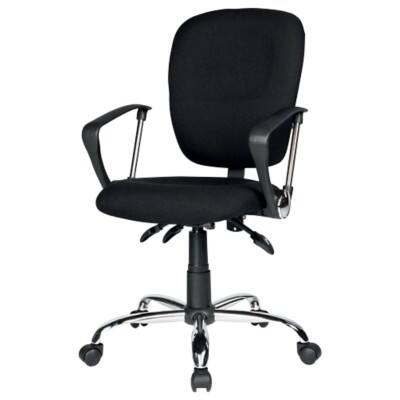 Realspace Atlas Office Chair Synchro Tilt Black
| | |
| --- | --- |
| Chair type | XXX |
| Armrest | XXX |
| Armrest | XXX |
Between £50-£100: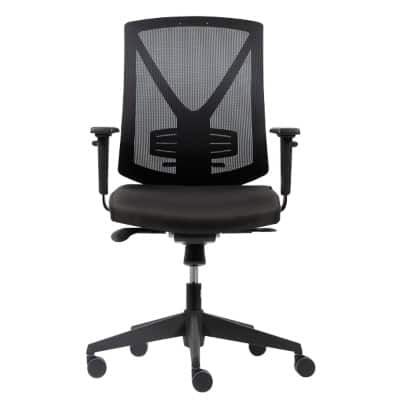 Realspace Karl Office Chair Black
Over £100: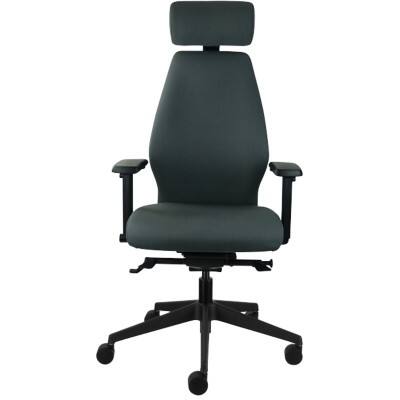 Energi 24 Office Chair Executive Solo Black
[Table of information displaying:]
Below £50: https://www.viking-direct.co.uk/en/rs-soho-atlas-office-operators-chair-black-fabric-p-3286025
£50-£100:
https://www.viking-direct.co.uk/en/energi-24-office-chair-executive-synchronized-black-p-9368873
Specifications to show items:
Chair Type
Armrest
Material
Seat Height Adjustment
Height Back Rest
Chair Usage
Delivery Time
How to the Get the Most Out of Your Computer Chair
Buying quality seating doesn't mean a thing if it isn't used properly. Assemble your chair quickly and ensure it's used properly by following our quick advice.
How to Assemble Your Computer Chair
Many models are self-assembly and come with specific instructions. When your chair arrives remove all its parts from the box and organise your parts into the following sections before assembly: back support, seat, armrests (if your model comes with them), chair legs and wheels.
Have a screwdriver and a wrench available so you can assemble all parts without any problems. Pay attention to clipping the wheels onto the chair legs and the main joint between the seat and the back support. Make sure these are secured tightly, otherwise your chair may end up doing more harm than good.
How to Sit at Your Computer Chair
We know what you're thinking. You don't need to learn how to sit in a chair, right? As a matter of fact, it was reported in 2017 that half a million cases of work-related ill health are caused by musculoskeletal issues. Issues that can develop if – you guessed it – you aren't sitting correctly.
While seated, you should be able to: [annotated image to accompany these points, show person sitting at desk following the below points]
Example image:
Adjust the backrest so that it supports the curve of your lower back.
Rest both of your feet flat on the floor.
Rest your arms close to your body and at the same height of your desk.
Have your shoulders supported by the back of the chair.
Adjust the height of your seat so your computer monitor is directly in front of you.
Rest your knees roughly two inches from the edge of the seat.
Even small aches and strains can turn into long-term problems over time. Your back, arms, shoulders, neck, legs and feet will be put under stress if you can't sit comfortably, so purchase an ergonomic chair that will support you while you work. To learn about other factors you may need to consider, depending on your workplace, see the nibusinessinfo guide to computer health and safety.
We recommend the Energi-24 'Posture Task' for its ergonomic qualities. It offers both softness and durability, so you stay comfortable no matter how long you work:
https://www.viking-direct.co.uk/en/energi-24-posture-task-office-operators-chair-in-black-fabric-p-cppos-bk
Specifications to show items:
Chair Type
Armrest
Material
Seat Height Adjustment
Height Back Rest
Chair Usage
Delivery Time
How to Adjust Your Computer Chair
There's nothing worse than when someone else uses your chair and makes it uncomfortable for you. The height's changed, the armrests are wrong, and you have to spend time getting it back to normal. While the amount of control you have over your computer chair depends on the model you purchase, here are some common features you may be able to adjust:
[Each point to be accompanied by an image highlighting the adjustable area and movement lines showing available movement. Example images:]
Height – All computer chairs can have their height adjusted using a lever or button on the base of the seat.
Tilt – You can alter the angle of your seat's back support with a lever or button on the underside of its base. Apply pressure while leaning back and release the lever/button to lock its position.
Armrests – Adjustment controls are most likely found under the armrests themselves, with a lever allowing you to move the padded supports to a height and width you find comfortable.
Seat – Apply pressure and shift your body forward to move the seat further away from the back support. Your knees should be bent at a 90-degree angle with both of your feet touching the floor.
Lumbar Support – These supports can be raised or lowered so that it rests on your small of your back, taking pressure off your shoulders and upper back.
Choose the Energi-24 'Intensive' for a high-performance chair designed to give you the perfect mixture of comfort and support:
https://www.viking-direct.co.uk/en/energi-24-intensive-office-operators-chair-in-blue-fabric-p-tkoper-be
Specifications to show items:
Chair Type
Armrest
Material
Seat Height Adjustment
Height Back Rest
Chair Usage
Delivery Time
Now you know the importance of choosing a quality product, browse our full range of computer chairs and choose one that will keep you productive all day long.